Welcome
TO HIGH ELMS TRAVEL
At HIGH ELMS TRAVEL (PVT) LTD we intend to make a difference in destination management. We cater to the detailed travel requirements of the individual or group on a personal level to maximise customer satisfaction, which is our aim and motto. We aim to please with the emphasis on being environmentally friendly.
RANI PILLAI (MS) DIRECTOR
Gallery
Images of Sri Lanka
Testimonials
What our clients have to say
Our travel agent was instrumental in putting together the perfect itinerary for a week tour of Sri Lanka. We told her what we were interested in seeing and she tailored the travel package accordingly. The travel plan she put together, the choice of hotels and price we paid were quite impressive, for the comfort, quality & proximity to attraction places. She responded to any questions promptly, & provided suggestions based on our interest.

On the day of arrival, we were picked at the airport by their agent who accompanied us for the entire trip which puts you at ease, we get a welcome gift, printed itinerary explaining the places we will visit and history about the place. Our journey took us from cool Kandy hills to sunny coastal beach resorts thoughtfully planned by our agent.

It was a smooth process working with High Elms travel. If you are interested in a worry free, fun Sri Lanka visit, I would strong recommend this company for their excellent personalized travel packages at a price that is fair for the exceptional value & service they provide.
Carmel - Los Angeles, California
We have used High Elms Travel to arrange our many visits to Sri Lanka over the last decade - whether that was for advice on where to go and what to see, the booking of hotels and itineraries or the provision of cars and drivers transporting us all over the island. Their service has been impeccable, and we have never been let down.

Rani Pillai (the MD) answers her email and phone with alacrity and accuracy. We have used her company to access facilities from Matara and Yala in the far south, to Jaffna in the north, Colombo, Nuwara Eliya, Trincomalee, and the Cultural Triangle. We usually make a point of contacting her about what we want to do on our next trip, 3 months or so ahead of departure, to give her time to plan the visit, but she can react very fast if needed.

We go to Sri Lanka twice a year on average, and would not dream of trying anybody else as a service provider, as Rani has never been unable to make appropriate arrangements for us.
Richard and Anne - London, England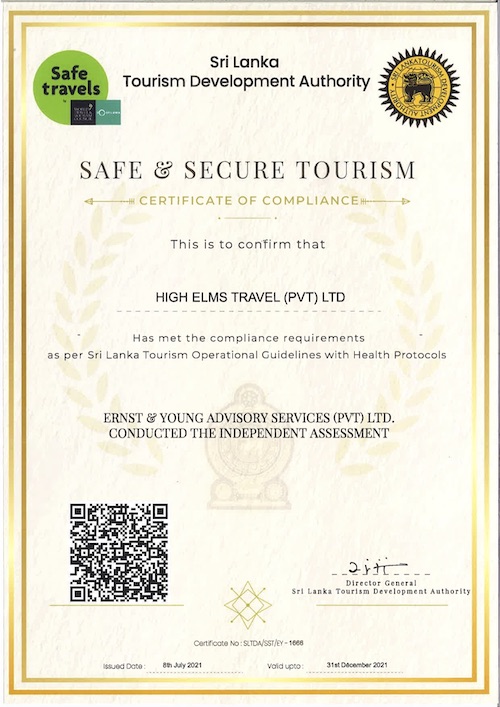 Click on the image to view Certificate of Compliance