Sri Lanka Vesak Festival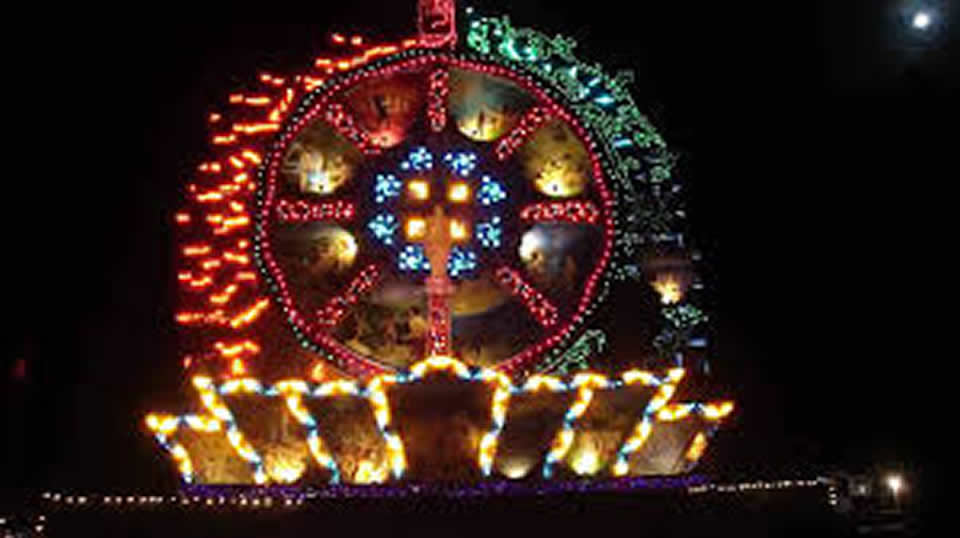 The Sri Lanka Vesak Festival is an annual commemoration of the Triple anniversary of Lord Buddha, The Birth, Enlightenment and Passing away on Vesak Full Moon Poya Day which is in the month of May. Lord Buddha made his 3rd and last visit to Sri Lanka on a Vesak full moon day. Toranas, which are pandals powered by electricity are erected in the main cities of Sri Lanka like Colombo, Kandy, Anuradhapura, Polonnaruwa, Galle, to mention a few. Each pandal illustrates a story from the 550 Past Life Stories of the Lord Buddha or Jathaka Katha and colourful lanterns are hung along the streets of Sri Lanka and are also beautifully lit up. Buddhist devotees provide free food and drinks to the public called Dansalas which are dotted along the streets of Sri Lanka.
We can tailor-make programmes to Sri Lanka according to your requirements to include the Vesak Festival, in Sri Lanka along with other sights like Culture, Nature, Wildlife, Archaeology, Beach stay and even a game of golf if interested. The season for the beaches in Sri Lanka in May is on the Eastern coast of Sri Lanka like Nilaveli, Trincomallee, Passikudah, Arugam Bay to mention a few.
However the beaches on the Western Coast of Sri Lanka like Unawatuna, Hikkaduwa, Bentota, Ahungalla to mention a few are also pleasant at this time of the year.